Chimney Inspections & Sweeping
The National Fire Protection Association recommends that homeowners have their chimney inspected at least once a year.
Our CSIA Certified Chimney Sweep uses state-of-the-art equipment to inspect and sweep 1st- and 2nd-story chimneys of all kinds, including oil-, wood-, and gas-burning chimneys. While sweeping your system, we ensure that it's in working order. When necessary, we use video inspection camera equipment to examine hidden parts of the flue.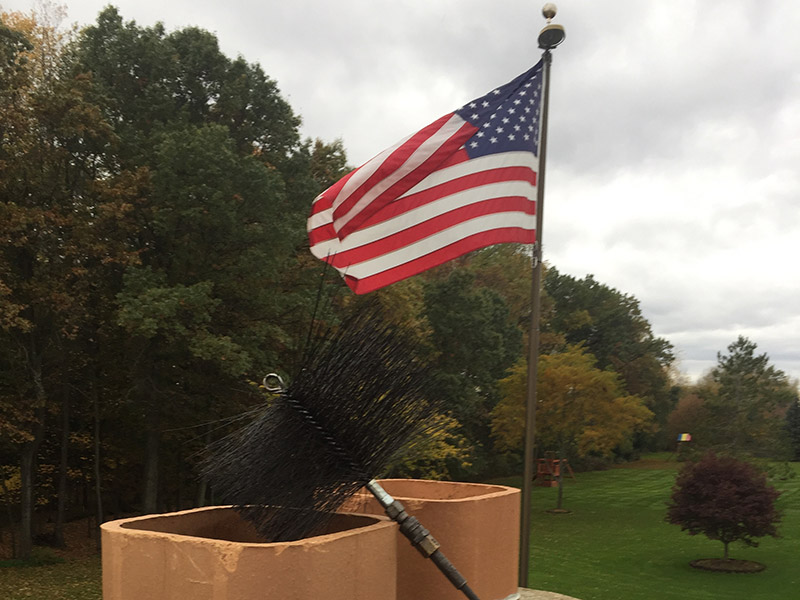 Chimney Inspection Levels
During our inspections, we look for any problems that could prevent peak performance, cause any hazards, and recommend what is needed for your system to burn cleanly and safely for your enjoyment.
Level 1
Level 1 inspection is the minimum requirement and is appropriate for systems that have not had any changes. We will examine the exterior, interior and accessible portions of the chimney to confirm it is in proper working order with no obstructions or deposits.
Level 2
If the property is being sold or transferred, or if there have been any changes to the system, then a level 2 inspection is required. A level 2 inspection includes all of level 1 criteria along with a visual inspection using a video scanner or other means to evaluate internal surfaces. For the video scanner, we use a Chim-Scan enclosed circuit video. There is no removal or destruction of any parts of the chimney at this level.
Level 3
If a level 1 or level 2 evaluation discovers issues requiring further inspection, then a level 3 is suggested. Level 3 includes all of level 1 and 2 criteria. In addition, the construction and condition of concealed areas of the chimney structure and flue will be examined. It may include the possible removal of portions of the chimney such as the chimney crown or interior chimney wall.